Twilight tatueringar
Skulle ni vilja tatuera något twilight inspirerat? :D Jag ska faktiskt skriva/tatuera "Be safe" på min rygg när jag blir lite äldre!
---
Kör Twilight frågesport med Ashley Greene
Okej, just nu känner jag mig väldigt dåligt. Jag kunde nästan inga frågor ju! :o
Hur många rätt hade du?
---
True Blood & Bree Tanner - Likheter?
Oj då! ;)
---
VI ser dig Twilight bok!
Det verkar som om Whitney Port gillar Twilight? ;)
---
Twilight & Historia
Jag har alltid undrar hur det var för Edward, Alice och de andra innan de blev vampyrer. Alice var ju fånge på ett psykhem så det är ju mycket intressant. Den här nya boken ger oss chansen att läsa om detta. ;)
The characters of the Twilight Saga carry a rich history that shapes their identities and actions over the course of the series. Edward, for instance, may look like a seventeen-year-old teen heartthrob, but was actually born in 1901 and died during the Spanish Influenza of 1918. His adopted sister, Alice, was imprisoned in an insane asylum in 1920 and treated so badly there that even becoming a vampire was a welcome escape. This book is the first to explore the history behind the Twilight Saga's characters and their stories. You'll learn about what life might have been like for Jasper Whitlock Hale, the Confederate vampire who fought during the Civil War, Carlisle Cullen, the Puritan witch hunter-turned-vampire who participated in the witchcraft persecutions in Early Modern England, and the history of the Quileute culture that shaped Jacob and his people —and much more.
---
12 orsaker att älska staden Forks
Haha, bra orsaker! :D
---
Fixa en Twilight inspirerad bal
Teen Vogue online har skrivit en cool artikel om hur du kan fixa en Twilight inspirerad Bal inspirerad av Bella,Alice och Rosalie.
Bella's stil:
Bella may be a natural beauty, but she's not about to flaunt it. The star of the Twilight series, and Edward Cullen's true love, would rather be comfortable on prom night than glamorous, which makes channeling the modest beauty a piece of cake. Ditch the uncomfortable heel and fussy hair and instead opt for an easy dress with a modest neck and hemline with your favorite sneakers or ballet flats. Leave hair loose and touchable, makeup minimal and throw on a comfy cardigan for good measure. Now all you have to do is find your very own vamp!
Alice's stil:
The true fashionista of the Twilight series is Alice. Always dressed to the nines, Alice puts her love of shopping to good use by picking out trendy and stylish pieces to go with her playful, outgoing personality. On prom night, make sure you're the life of the party in true Alice style by opting for a trendy cocktail dress and killer heels. Alice's style credo is the more the better, so pile on the accessories and carry a notice-me-now clutch. Don't stop there–channel Alice's graceful steps on the dance floor and you're guaranteed to have a good time!
Rosalie's stil:
Bella considers Rosalie the most beautiful person on the planet—and Rosalie knows it! Part of what makes Rosalie so attractive is her killer confidence, and unlike Bella, who would prefer to remain in the background, Rosalie revels in the spotlight. Make sure you're the center of attention come prom night by opting for a show-stopping red gown with a plunging neckline, sky-high heels and dangly earrings. Rosalie will be proud—or even jealous!
[Källa]
---
Twilight & New Moon VS. Lilla Sjöljungfrun
Vi har fått se många Twilight inspirerade klipp med Disney figurerna och nu är det dags för Ariel's och Eric's tur! Det första klippet får vi se Twilight Trailern och i det andra får vi se New Moon trailern.
[Källa:twifans.com]
---
Twilight Tidbit: Stephenie Meyer´s New Book Casting & 'Eclipse' Spoofs
Videon innehåller en massa roliga saker att veta om du är intresserad av Stephenie Meyer's  bok The Host och lite Eclipse snack får du också höra. ;)
---
Seventeen - Twilight på listan av 17 Best Prom Scenes List
Jag håller med Seventeen. Bal senen i Twilight är faktiskt min favorit scen. Det är så fint! :o Låten som spelar i bakgrunden Flightless American Bird har nu också blivit en av mina favorit låtar.
Bella isn't like other girls — she falls in love with Edward, a vegetarian vampire, and she could care less about going to prom. She has other things to worry about, like falling prey to the evil vampires. But Edward won't let her miss this human rite of passage, so he takes her to prom, where they dance the night away in a beautiful gazebo.
---
Twilight inspirerade tatueringar
Jag ska faktiskt också tatuera mig när jag blir äldre. Men det ska bara bli en liten då, jag ska tatuera in "Be safe" på min rygg! Här kommer två personer som har tatuerat dit lite extra. ;)
---
Twilight Tibit – Sammanfattning om kommande projekt
---
Macbook inspireras av Twilight
Vill du pimpa upp din Macbook(Bella har även Macbook)? Varför inte då göra såhär? :D
---
Oprah beöver Twilight fansen's hjälp!
Alla twilight fans där ute som är över 21 år! Ta chansen och svara på frågor! Vem vet dina svar kanske visas på Oprah's show.
Are you or your kids obsessed with the Twilight series? Have you or your kids read all the books, seen both movies and now you are counting down the days until the release of Eclipse? Have you already made plans for the release of the newest movie in June? Who's your family's favorite Twilight star…and why?
Why do you love the story so much? How has it impacted your life? What have you learned from the series and how has it made you a better person? Are you a housewife who's started a fan club with friends? Do you have a young adult in your family who's been inspired to write his/her own stories? Has the romance in Twilight sparked the romance in your own relationship?
Tell us how the Twilight series has inspired you or your family! Please only write if you are willing to appear on The Oprah Winfrey Show.
Är du eller dina barn besatta av Twilight serien? Har du eller dina barn läsa alla böcker, sett båda filmerna och räknar nu ner dagarna till utsläppet av Eclipse? Har du redan gjort upp planer för frisläppandet av den senaste filmen i juni? Vem är familjens favorit Twilight stjärna … och varför?
Varför älskar du historien så mycket? Hur har det påverkat ditt liv? Vad har du lärt från serien och hur har det gjort dig en bättre person? Är du en hemmafru som har startat en fanclub med vänner? Har du en ung vuxen i din familj som varit inspirerad att skriva sin egen berättelse? Har romantiken i Twilight utlöst romantik i ditt egna förhållande?
Berätta hur Twilight-serien har inspirerat dig eller din familj! Snälla, skriv bara om du är intresserad av att visas på The Oprah Winfrey Show.
[Källa]
---
Twilight in Forks - Fansen möter Robert Pattinson
Jag vet inte om jag har lagt ut den här videon tidigare men jag lägger ut den nu(igen) i alla fall! :D
---
Förändringarna mellan The Humans
Vi har tidigare sätt förändringarna mellan The Cullens, Charlie, Bella, Jake och några andra. Nu är det människornas tur. ;)
---
Victoria, Carlisle, Charlie & Esme under filmerna
Här kommer förändringarna mellan Carlisle, Charlie, Esme och Victoria.
---
Förändringarna mellan The Cullens
Jag hittade de här bildera på Alice, Rose, Jasper och Emmet där man kan se förändringarna som har skett mellan filmerna.
Emmet och Jasper ser mycket annorlunda ut i Eclipse än vad jag tycker är nödvändigt. Okej, det är väll bra med lite förändring men
så
mycket?
---
Alice Cullen - Twilight - New Moon - Eclipse
Haha, nu är det Alice's tur. Jag tycker inte Alice's hår ser bra ut i Eclipse. Det ska ju inte vara så rakt och sitta så fint! :(
[Källa:twifans.com]
---
Twilight gängets favorit bok i The Twilight Saga
Här kommer en lisa på vem som gillar vilken bok i The Twilight Saga.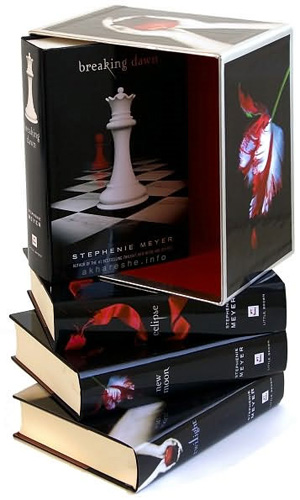 Twilight
Ashley Greene
Elizabeth Reaser
New Moon
Kristen Stewart
Robert Pattinson
Chaske Spencer
Eclipse
Peter Facinelli
Kellan Lutz
Taylor Lautner
Breaking Dawn
Christian Serratos
Min är klart Eclipse! :D
[Källa:twilightlexicon.com]
---