Hillywood's The Runaways parodi
---
Jashley
Jaså, ser man på! Den här bilden har en person tagit som har varit närvarande och jag kännde att jag bara var tvungen att lägga ut den. Nu ska vi inte hörhasta oss, men är det en kyss eller bara en puss på kinden? Vad tror ni? ;)
---
The TwiCast hos Jimmy Kimmel
Våra kära TTS skådespelare kommer som sagt befinna sig hos Jimmy Kimmel och ha en Eclipse special. Inspelningarna är nu gjorda men inga videos är ute än, bara massor med bilder. Men för tillfället, duger det gott och väl. :D
[Källa: twifans.com]
---
Grattis på födelsedagen Elizabeth Reaser!
Idag fyller Elizabeth Reaser som spelar Esme Cullen 35 år!
Grattis till henne!
---
Dakota Fanning i The Today Show
---
Träffa Kristen Stewart & Taylor Lautner!
MTV Sweden har nu annordnat en tävling där du kan få träffa Kristen Stewart och Taylor Lautner då de är i Stockholm backstage. Inte dåligt, huh? ;)
Den 21 juni är ett datum vi sent kommer glömma, ett datum då Sverige får nobelt besök av ett par av världens just nu största skådespelare. Taylor Lautner och Kristen Stewart må vara mer kända under deras rollkaraktärers namn Jacob och Bella eller som snygg varulv och hopplöst vampyrförälskad flicka i Twilight-filmerna.
I samband med att den 3:e filmen i berättelsen om den lilla sömniga staden Forks som är tillflyktsort för en vampyrfamilj har premiär så ordnas ett sprakande event på Hovet i Stockholm där just Taylor och Kristen kommer närvara, och DU har chansen att besöka eventet och träffa skådisarna.
En lycklig vinnare får ta med sig en ännu lyckligare kompis och träffa, prata och kanske kanske kanske krama Taylor och Kristen backstage under eventet i Stockholm den 21:a juni. 1- 20 plats får även 2 exklusiva VIP-biljetter till eventet vilket ger dom tillgång till extremt bra platser under eventet där grymma band kommer spela, massa Twilight-grejer kommer finnas samt det viktigaste; aldrig tidigare visat material från nya filmen kommer presenteras.
Vill du vinna?
Klart du vill vinna, men hur gärna vill du vinna? Ladda upp en bild på dig själv iklädd din finast Twilight-outfit och briljera med dina engelska kunskaper när du berättar för oss – på engelska – exakt hur glad du skulle bli av ett möte med Taylor och Kristen så är du med och tävlar om en upplevelse du gladeligen kommer berätta om för dina barnbarn när du sitter i gungstolen och skränar på äldre dagar.
Lycka Till!
Prisinformation:
1:a pris:
2 VIP-biljetter samt 2 meet & greets-biljetter där vinnaren får träffa Taylor Lautner och Kristen Stewart under Twilighteventet i Stockholm, Hovet den 21:a juni 2010 (Värde: ca 1.300 kronor)
2:a – 20:e plats:
2 VIP-biljetter till Twilight-eventet i Stockholm, Hovet den 21:a juni 2010 (Värde: ca 500 kronor)
Tävlingen avslutas den 18 juni kl. 12.00 och vinnarna kontaktas den 18 juni per telefon.
Observera att MTV inte står för eventuella resekostnader eller logikostnader.
Vinnaren samt personen vinnaren väljer att ta med sig till eventet måste ha fyllt 18 år eller ha godkännande från målsman.
Klicka här för att komma till MTV's sida där du kan anmäla dig.
---
Kristen Stewart & Taylor Lautner kommer till Sverige
Jag vet att jag är rätt sent ute med det här men ändå! :D
Den 21 Juni kommer de två Twilight stjärnorna befinnas sig i Stockholm.
Såhär skriver Nordisk Film:
Skådespelarna Kristen Stewart och Taylor Lautner besöker Stockholm den 21 juni inför Sverigepremiären av THE TWILIGHT SAGA: ECLIPSE!
Måndagen den 21 juni besöker skådespelarna Kristen Stewart och Taylor Lautner Stockholm inför Sverigepremiären av THE TWILIGHT SAGA: ECLIPSE. Kristen Stewart, som spelar Bella Swan och Taylor Lautner, som spelar varulven Jacob, har båda blivit några av världens största filmstjärnor efter succéerna med de två tidigare filmerna i The Twilight Saga: "Twilight" och "New Moon".
-Att skådespelarna väljer Stockholm som en av tre exklusiva anhalter på sin promotionturné är resultatet av ett bra samarbete med amerikanska producenten Summit Entertainment. En ännu större anledning är The Twilight Sagas framgångar i denna del av världen och det outsinliga engagemanget från den skandinaviska fanbasen. Vi är oerhört stolta och glada å fansens vägnar att dessa två världsstjärnor har valt att komma till Stockholm, utöver Rom och Berlin. Pia Grünler, Distributionschef Nordisk Film
PRESSKONFERENSEN äger rum i Stockholm måndag den 21 juni.*
THE TWILIGTH SAGA: ECLIPSE är den uppmärksammade fortsättningen och tredje delen i Stephanie Meyers berättelse om Bellas och Edwards omöjliga kärlek.
En våldsam seriemördare härjar i Seattle och en ondskefull vampyr fortsätter sin jakt för att ta ut sin hämnd på Bella som åter igen befinner sig omgiven av fara. Samtidigt tvingas hon att välja mellan sin älskade Edward och sin vänskap med Jacob. Och hennes val riskerar att blåsa liv i den urgamla kampen mellan vampyrer och varulvar. Men Bella har också ett annat val att göra – valet mellan liv eller död. Men vad är vad? Regi: David Slade. I rollerna: Kristen Stewart, Robert Pattinson och Taylor Lautner.
THE TWILIGHT SAGA: ECLIPSE får Sverigepremiär över hela landet den 30 juni 2010!
[Källa]
---
Eclipse special på Jimmy Kimmel Live
Yeey!Den 23 Juni kommer Jimmy Kimmel Live ha en Eclispe special.
ABC is giving Jimmy Kimmel a full primetime special dedicated to the June 30 release of "The Twilight Saga: Eclipse."
Titled "Jimmy Kimmel Live: Twilight Saga: Total Eclipse of the Heart," the special will air from 10:01-11:00 p.m. on Wednesday, June 23.
ABC boasts that this will be the only joint primetime appearance by "Twilight" stars Robert Pattinson, Kristen Stewart and Taylor Lautner. And if that's not enough, co-stars Dakota Fanning, Bryce Howard and Xavier Samuel will be on-hand, plus "special guests."
[Källa]
---
Taylor, Robert & Kristen hos Oprah Winfrey Show - smygtitt del 2
Idag är det dags, idag sänds Oprah Winfrey på amerikansk TV. Jag kommer såklart lägga ut det när det kommer ut på nätet. Men så länge får vi nöja oss med det här. ;)
---
I det här klippet pratar Rob om att han hade drömmar om att bli en rapp artist när han var yngre och så pratar han också om hur han över in sin amerikanska accent.
Här pratar Robert och Taylor om hur det är att ha fans omkring sig så ofta.
Och här, berättar Taylor vad han söker hos en tjej.
Källorna; thetwilightsaga.se , twilightsweden.se & twifans.com
---
Taylor, Robert & Kristen hos Oprah Winfrey Show - smygtitt
---
Koreanska bilder från The Runaways
De är väldigt coola tycker jag. ;)
[källa; twifans.com]
---
Christian Serratos kommer vara med i 96 Minutes
According to this Variety article Christian Serratos has joined the cast of 96 Minutes-
Christian Serratos ("Twilight") has boarded the pic "96 Minutes." She joins a cast that already includes Brittany Snow and Evan Ross and will play the victim of a carjacking gone wrong. The thesp can be seen next in "The Twilight Saga: Eclipse."
[Källa]
---
Joan Jett kommer till Sverige!
Grattis till alla er som ska se Green Day på Ullevi i Göteborg i sommar för Joan Jett(som Kristen Stewart spelar i The Runaways) kommer var förbandet till konserten. :D
[Källa]
---
Grattis på födelsedagen Catalina Sandino Moreno!
Idag fyller Happy Happy Birthday Catalina Sandino Moreno år! För er som inte vet så spelar hon Maria i Eclipse. :)
Grattis önskar The Twilight World.
---
Ny bild med The Runawyas gänget
Haha, go Kristen! :D
---
Nya stills från The Runaways
Här kommer fyra nya stills på Kristen och Dakota från The Runaways.
Gosh, vilka skor de har på sig! :o
---
Alex Meraz i Australien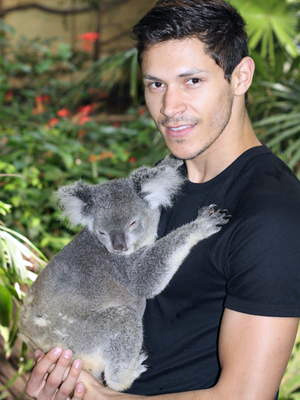 Alex Meraz was in Australia as part of the Supernova Convention. The brand new fansite, The Meraz Effect, has a rundown of Alex's Q & A on both days that he appeared. Here's a tidbit from day 1:
~Alex believes he walks a fine line when it comes to representing Native Americans. He says you have to be careful how you represent them.
~Julia got sick of the wolfboys continuously goofing around on set – which helped her look convincing as Leah on screen.
~His brother's comic books were part of his inspiration for his artwork.
~If the wolfpack were superheroes, Kiowa would be the villain and his power would be height, Bronson's power would be the ability to laugh, Chaske would have the power to fly, and Alex would have the power of speed.
~FOUR TO THE FLOOR and ON THE RUN not going to be seen anytime soon. FOUR TO THE FLOOR is being edited. ON THE RUN producers haven't gotten back to him since casting.
~In New Moon when Paul says sorry – that was all Alex! He thought it would be weird if he just walked into Emily's place and didn't say anything or acknowledge Bella right after trying to attack her. Kristen backed Alex up and he got to say his line. Plus, this was his favorite scene.
---
Billy Burke som musik snubben
Go Billy!
Som jag har sagt innan har vi många musiker i Twilight gänget. Nu har vi fått en till! Ingen annan än Billy Bruke. Han släpper nu sin singel den här sommaren och du kan få den helt gratis! Klicka
här
för att anmäla dig.
Billy Burke tweeted the other day about having a new website and seeing if he could promote a music project by not going through the (frankly in our opinion antiquated) record label system. Well, by all accounts it is a wild hit. We think the number of people hitting the site as it launched even surprised Billy. If you follow Billy on Twitter and in interviews, you know that he is a guy that doesn't got surprised easily.
In the welcome message of his new site, Billy talks about his acting and unfortunately his much delayed music career. He also waxes on as he reminisces about the Seattle music scene of the early 1990's when grunge was coming into its heyday and Kurt Cobain and Nirvana were leading the charge out of the bubblegum 1980's. Billy then sums it all up by saying:
"It's been 19 years since the Caddy sputtered into Hollywood, low on oil with a driver even lower on outlook. In those years and throughout his sometimes rosy, sometimes less than stellar career as a film and TV actor, that "driver" has continued to write songs. Songs that reflect the ongoing experience of never knowing. Songs that he hopes might speak to those with similar presentiments and with any luck, those who just dig some music.
So here, on the precipice of two decades into what was always intended to be a "duel career", I am about to share with you what was supposed to be the FIRST half, but has now become the second…
With the exception of a couple of very special guest musicians whom I'm beyond elated to have coming in, initial tracking for my first LP is now complete. We've got some mixing and mastering yet to do but we're almost there. It has been such a… treat for me to be able to work with the caliber of artists we've gathered to make this thing happen. Much credit and my ongoing gratitude goes to producer David Darling who saw my vision and fearlessly brought it to life as no one before ever has. I'm not gonna put any useless preconceptions out there and tell you what "kind" of music it is or who you might compare it to so…
We're just gonna give away one of the tracks for FREE. Give it a listen. Decide for yourself. To be honest, I'm not sure how long the "freebie" will be available as I've gotten quite a bit of resistance to this idea, (Whatev. It's my music, I'll do what I want with it) so… GET ON THE LIST AND GET IT NOW. As soon as it's ready, you'll be emailed a copy.
In addition to the album, we've got some other good shit in store for the early subscribers in the months ahead. As we work out the details, you'll be informed on how to get in on it. Don't be shy. Leave a comment, question or unsolicited rant. I'll be as diligent as I possibly can in responding to everyone …
At the risk of sounding all squishy and sentimental, this venture has been a long time coming for me, so I really would like to thank you all in advance for coming along…"
Don't worry, Billy. It's not too "squishy and sentimental" even if you are currently sporting a fine set of fully polished acrylics!  We'll be downloading and giving the music a try. Rock on!
---
Xavier Samuel -Road train trailer
According to 
IMDb
, Road train is the story of: Four young friends on a camping adventure in outback Australia are run off the road by a mystery road train - a massive three-trailer truck. With their own 4x4 wrecked and the road train stopped, the friends march off to remonstrate with the driver. But there is no one to be found. Suddenly, the silence is broken by the sound of gunshots. A distant figure screams and runs towards them. Are they witnesses to a murder? There's no time to discuss it. The friends commandeer the road train. The next town is only three hours away. But the next town is somewhere they will never reach. What they discover inside the vehicle's trailers proves more terrifying than anything out there on that lonely road. Also according to IMDb, "Road train" is in Post-production and should be released in Australia sometimes in 2010.
---
Nya stills från The Runaways
Två nya stills från The Runaways på Kristen Stewart och Dakota Fanning.
---