Jamie Campbell tatuerar sig
Jamie Campbell som spelar Caius la gör ett ta g sedan ut en bild på sin twitter där han tatuerar sig!
Cooling!
---
GIL BIRMINGHAM I THE MENTALIST
Som sagt skulle Gil Birmingham vara med i The Mentalist och nu har det kommit ut ett promo klipp från det avsnittet.
---
Nya stills på Dakota Fanning
Två nya stills på Dakota Fanning i The Runaways! :)
---
Chaske Spencer i New Zealand för Armageddon Comic-Con
---
Nya stills från The Runaways
Se fler här, på källan.
---
Chaske Spencer i Shouting Secrets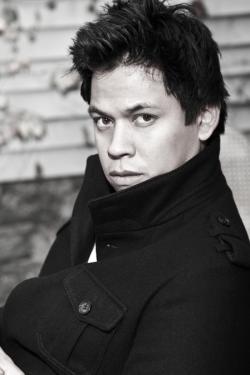 According to a press release, chaske Spencer is slated to star in a new movie.
"Actor Chaske Spencer, star of The Twilight Saga film series: "New Moon" and "Eclipse" has officially signed on as the lead in the Korinna Sehringer film "Shouting Secrets" which will start shooting in Arizona on April 26th. Spencer will play Wesley Bishnik, a successful young writer in Los Angeles who is called back to his Native American upbringing after ten years in order to visit his sick mother.
This role hits close to home for Spencer who grew up on reservations in Idaho and Montana and left home to pursue his acting career. Spencer has also been very active in showing his support for the Native American Community including raising awareness about the snowstorm disaster victims from South Dakota's Cheyenne River Sioux Tribe who were without power and water for weeks.
Using his celebrity to spotlight the issue, Chaske alongside manager Josselyne Herman, and Video Army Productions has created a star-studded PSA campaign, benefiting the snowstorm disaster victims from South Dakota's Cheyenne River Sioux tribe. The PSA's urge individuals to "shift the power to the people" and help to empower everyone to create sustainable, lasting change in their communities and countries. Celebrity volunteers including "Twilight" series stars: Alex Meraz, Gil Birmingham, Boo Boo Stewart, Julia Jones, and Justin Chon, as well as other celebrities Q'orianka Kilcher, Quddus, Dawn Olivieri, and Danielle Bisutti. This project is one of the UNITED GLOBAL SHIFT project's that Chaske is championing.
Since the PSA has gone live on February 23rd over 6,000 letters have gone to Capitol Hill from people going to shiftthepowertothepeople.squarespace.com.
"Shouting Secrets" is a film from the creative team, Joke Film Productions, consisting of Producer / Director, Korinna Sehringer ("Survivor") and Producer Ueli Josef Bollag.
---
Miljövänliga Rachelle Lefevre
Rachelle Lefevre är nog inte bara känd för att vara med i Twilight och New Moon, kanske också för att hon är så miljövänlig! Igår så släckte ganska många alla lamopr och sånt. Gjortde ni det? Jag gjorde det.
---
Gissa vem!
Vem tror ni detta är? :)
Vill ni ha en ledtråd? Han befinner sig i Sverige just nu!
Helt rätt, boys and girls!
Det är ingen mindre än Charlie Bewley. Han befann sig ju på mässan i Malmö idag. Jag ska åka och träffa honom imorgon. Någon mer som ska det eller som redan har träffas honom?
---
Nya stills från The Runaways
Här kommer några stills från The Runaways.
Är det bara jag som tycker denna bilden nedan ser lite konstig ut? Om ni kollar på Kristens axel så ser ni att det är två händer på bilden och hela hon är helt konstig! :o
---
Anna Kendrick - Scott Pilgrim Vs. The World Trailer
---
Grattis på födelsedagen Tinsel Korey & Kiowa Gordon
Grattis på födelsedagen Tinsel Korey(30år) och Kiowa Gordon(20år)! :)
Grattis från The Twilight World.
---
Cherry Bomb - mest strömmande videon på MTV.com
---
Ny video från The Runaways
---
Dakota hos Lopez Tonight
---
The Runaways video - Dakota & Kristen kysser varandra!
---
Två stills från The Rynaways
Det är inte vilka stills som helst utan stills från då Kristen Stewart och Dakota Fanning kysser varandra! :o
---
Make-up artisten i The Runaways tipsar
---
Nya stills från The Runaways
---
Michael Sheen hos Craig Ferguson
Michael Sheen var som rubriken säger hos Craig Ferguson. Han är så rolig, Michael! :D
[källa:twifans.com]
---
Kristen överraskar Dakota hos Late Night with Jimmy Fallon
Haha, tänk att vara kompis med Dakota Fanning och Kristen Stewart! När Dakota är hos Jimmy Fallon får hon sig en överraskning.
---