DAGENS CITAT
I'll always be waiting in the wings, Bella. You'll always have that spare option if you want it.
Jacob Black, Eclipse
---
DAGENS CITAT
As much as I struggled not to think of him, I did not struggle to forget. I worried—late in the night, when the exhaustion of sleep deprivation broke down my defenses—that it wasall slipping away. That my mind was a sieve, and I would someday not be able to remember the precise color of his eyes, the feel of his cool skin, or the texture of his voice. I could not think of them, but I must remember them. Because there was just one thing that I had to believe to be able to live—I had to know that he existed. That was all. Everything else I could endure. So long as he existed.
Bella Swan, New Moon
---
DAGENS CITAT
Isn't Edward up for a little healthy competition?
Charlie Swan, Eclipse
---
DAGENS CITAT
Seemed like maybe getting your choices taken away from you wasn't the very worst thing in the world. Maybe feeling like this was the very worst thing in the world.
Jacob Black, Breaking Dawn
---
DAGENS CITAT
Charlie, I realize that I've gone about this out of order. Traditionally, I should have asked you first. I mean no disrespect, but since Bella has already said yes and I don't want to diminish her choice in the matter, instead of asking you for her hand, I'm asking for your blessing. We're getting married, Charlie. I love her more than anything in the world, more than my own life, and – by some miracle – she loves me that way, too. Will you give us your blessing?
Edward Cullen, Breaking Dawn
---
DAGENS CITAT
You're kidnapping me, aren't you?
Bella Swan, Eclipse, Chapter 6, p.14
---
DAGENS CITAT
His fingers were ice-cold, like he'd been holding them in a snowdrift before class. But that wasn't why I jerked my hand away so quickly. When he touched me, it stung my hand as if an electric current had passed through us.
Bella Swan, Twilight
---
DAGENS CITAT
I'll never forgive myself for leaving you. Not if I live a hundred thousand years.
Edward Cullen, Eclipse, Chapter 1, p.33
---
DAGENS CITAT
I vividly remembered the flat black color of his eyes the last time he'd glared at me — the color was striking against the background of his pale skin and his auburn hair. Today, his eyes were a completely different color: a strange ocher, darker than butterscotch, but with the same golden tone.
Bella Swan, Twilight
---
DAGENS CITAT
I was curious about you.
Edward Cullen, Twilight
---
DAGENS CITAT
Edward looked just as beautiful as he did in real life, staring at me out of the picture with the warm eyes I'd missed for the past few days. It was almost uncanny that anyone could look so… so… beyond description. No thousand words could equal this picture.
Bella Swan, New Moon, Chapter 3, p.65
---
DAGENS CITAT
I'm not crazy, but that was sure something!
Garrett, Breaking Dawn, Chapter 32, p.625
---
DAGENS CITAT
And So the lion fell in love with the lamb.

What a stupid lamb.

What a sick masochistic lion.

-Edward & Bella
---
DAGENS CITAT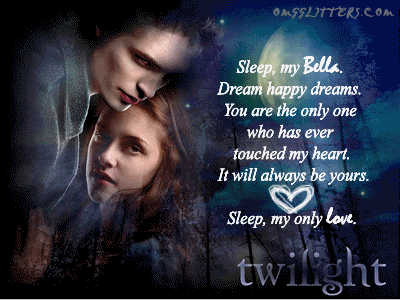 ---
DAGENS CITAT
After eighteen years of mediocrity, I was pretty used to being average. I realized now that I'd long ago given up any aspirations of shining at anything. I just did the best with what I had, never quite fitting into my world. So this was really different. I was amazing now – to them and to myself. It was like I had been born to be a vampire. The idea made me want to laugh, but it also made me want to sing. I had found my true place in the world, the place I fit, the place I shined.
Bella Cullen, Breaking Dawn, Chapter 26, p.523
---
DAGENS CITAT
I'll miss my friends, too. Especially Mike. Oh, Mike! How will I go on?
Bella Swan, Breaking Dawn, Chapter 2, p.27
---
DAGENS CITAT
I saw no reason for fear. I couldn't imagine anything in the world that there was left to be afraid of, not physically at least. One of the few advantages of losing everything.
Bella Swan, New Moon, Chapter 4, p.110
---
DAGENS CITAT
You're exactly like Charlie. Once you make up your mind, there is no reasoning with you. Of course, exactly like Charlie, you stick by your decisions, too.
Renée Dwyer, Breaking Dawn, Chapter 1, p.18
---
DAGENS CITAT
I won't lose you, Bella. Not for this.
Jacob Black, New Moon, Chapter 12, p.290
---
DAGENS CITAT
Be safe.
(Edward Cullen, Twilight)
---